If your kids are anything like mine the have a love of all things technology. Not that I blame them. I can't imagine growing up with tablets, smartphones and screens everywhere. It's an amazing time to grow up with the ever changing technology at our fingertips. However, I don't want my kids to grow up without an appreciation for nature and the world around them. We regularly limit screen time and go "tech free" as a family. Planning an eco-vacation is a great way to see more of natural world and bond as a family.
Iceland is the perfect destination when you're planning a trip looking to spend time in nature. Not only is the country full of things to do for people of all ages, it boasts picturesque landscapes no matter the season. Choosing the best time to go really depends on exactly what experience you're looking for. I always suggest checking with the local area guide site to help you plan your perfect trip.
ICELAND IN SUMMER
No matter the season the Blue Lagoon is a must see during your trip. The Blue Lagoon geothermal spa is one of the most visited attractions in Iceland. The spa is located in a lava field in Grindavík on the Reykjanes Peninsula. It's perfect for relaxing and detoxing. The Blue Lagoon is family friendly (selling family tickets) and the views while at the spa are simply breathtaking. The spa is not in Reykjavik so knowing how to get to the blue lagoon is a must.
The early summer months are a great time to visit Iceland. If you are a fan of gorgeous floral landscapes contrasted by snow capped mountain backdrops, Iceland in early summer is for you. May-July Iceland becomes the Land of the Midnight Sun". With 24 hours of sunlight you aren't limited to traditional daylight hours to explore the landscape.
The summer months are the perfect time to explore some of Iceland's natural waterfalls. The lack of ice and snow lets you get up close (and even behind) some of these amazing natural wonders. TheSeljalandsfoss waterfall on Iceland's South Coast is one of the more popular waterfalls to explore. The waterfall has breathtaking views of the coast and surrounding green fields. The color contrasts alone during the summer months make this is must see destination for any visitor. Seljalandsfoss isn't the only waterfall destination in Iceland. The country has many, many waterfalls to visit and each has it's own unique features.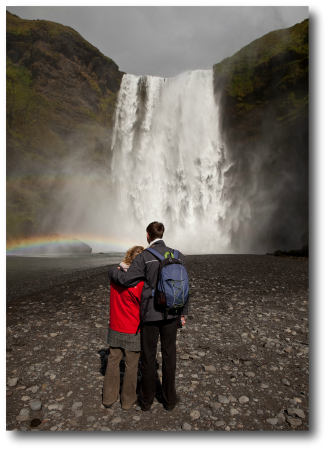 The Jökulsárlón glacier lagoon is another popular destination. If you've never seen glaciers in person this is a destination you can not miss. The lagoon is full of icebergs year round. Because there are no air bubbles present in the ice, the ice appears blue in the light. With 24 hours of sunlight through the summer months you will always have a chance to see the blue ice while visiting!.
ICELAND IN WINTER
If you're a fan of the cold and winter (even if you aren't) Iceland in winter is completely different experience. Don't let the idea of cold and snow stop you from visiting during the winter months. There are equally amazing sites to see while visiting this country during the winter months.
The most popular activity during the winter months is visiting and exploring any of the the countries ice caves. Talk about an educational opportunity for your family! Your family can learn about he ever changing landscape of glaciers and how these ice caves are formed within them thanks to moving water. This is an activity that you can't do without an expert so finding a guided tour is a must and very easy to do.
When you're done taking a tour through the ice caves you can warm up in one of the many natural occurring hot springs. I love hot springs, especially in the winter time. The contrast between the warm water and frigid air is invigorating!
When I think of vacationing anywhere in the Arctic circle I always think of the Northern Lights. Iceland in the winter is a perfect time to see this natural phenomena. It's important to remember that you can't always see these natural lights (think cloud cover and light pollution) but there are many tours and experts that can help you get the best experience possible. Checking the forecast during your stay is a must before going out on your search. Winter is the best time to experience this gorgeous site due to the extended lack of daylight.
Visiting Iceland is something everyone should add to their bucket lists. Families can take in the wonders of the natural landscape and outdoor activities year round. I recommend making a list of what you want to see most before deciding the perfect timing for your trip. However, you should consider more than one trip for the once-in-a-lifetime experiences all the season of this country can provide!
Thanks Mommy Makes Time for this great article!
Disclaimer: This post may contain sponsored content, affiliate links or review products. Regardless of this these are 100% our own opinions.